Ductless Installation In Hays,

Ellis, Plainville, KS, And

Surrounding Areas
More and more homeowners are opting for ductless (mini-split) systems as they improve energy efficiency and reduce utility bills. Ductless systems offer several advantages compared to traditional HVAC systems, such as ease of installation, increased energy efficiency, and greater flexibility. Contact us today for ductless installation in Hays, Ellis, Plainville, KS, and surrounding areas.
The main difference between a ductless unit and a central AC system is that a ductless system can be installed in an interior space that is not connected to ductwork.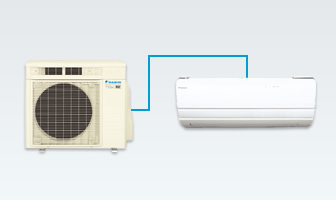 If you want a ductless system in your home, look for an HVAC contractor trained and certified specifically in ductless installation and repair. Ductless systems are different from conventional systems, so hiring a trained contractor like Reliable is wise.
A good technician will know how to integrate a ductless system if you already have central HVAC. If not, their expertise in designing a new ductless system from scratch is essential!
That's where Reliable can help. Reliable services in Hays, Ellis, Plainville, Kansas, and other surrounding areas. Reliable is the one company you need for all things HVAC.
Ductless units, also known as mini-splits, are an energy-efficient, scalable way to add cooling or heating to specific rooms of a home. Ductless systems consist of one or more wall, floor, or ceiling-mounted indoor units that connect to an outdoor compressor (or series of compressors).
Installing this product is easier and quicker than a complete ducted system. A ductless system can only control the temperature in specific rooms where they are installed and not your entire home. Homeowners use ductless units to heat or cool an isolated area in their home, which supplements their regular heating and cooling equipment.
Which ductless unit is right for you?
If you are unsure if a ductless system is suitable for your home, it all comes down to your house's particular heating and cooling needs. They could be the perfect solution for an addition or room that doesn't get enough airflow because of how your home is designed.
In climates where people don't rely on an entire indoor comfort system to stay comfortable, ductless solutions are widely used. Reliable servicing Hays, Ellis, Plainville, Kansas, and other surrounding areas can work with you to help integrate a ductless system perfect for your comfort needs.
What are the disadvantages of a mini-split?
The most significant disadvantage to installing a ductless system is the cost. Systems can be pricey. The upfront cost may seem like a lot, but considering the long-term benefits, it is worth the investment.
Many local utility companies offer energy rebates to offset the initial expense. A drawback is that conditioned air will only reach the room where the indoor unit is set up. Unlike your central HVAC system, conditioned air is not transported through air ducts in floors or ceilings. The indoor ductless unit vents dispense the air in that room. Ductless units may be a great solution if your home is designed with an open floor plan!
Need more ways to save on your indoor comfort needs? Call Reliable servicing Hays, Ellis, Plainville, Kansas, and other surrounding areas.
Talk to Reliable experts to learn more about ductless installation. Call us today at (785) 621-4925.
Contact Us Today For
Ductless Installation In Hays,

Ellis, Plainville, KS, And Surrounding Areas