Emergency Plumbing Repairs In Hays,

Ellis, Plainville, KS, And

Surrounding Areas
Are you stressing about a broken water heater? Or has your toilet overflowed? Sure, plumbing surprises can be a scary situation if not addressed by experienced professionals quickly. Reliable is here to respond 24/7 to emergency plumbing repairs and care for leaks or stopped-up pipes. With our trained technicians at your service, you can feel confident that your emergency plumbing needs will be taken care of quickly and effectively. Contact us today for emergency plumbing repairs in Hays, Ellis, Plainville, and the surrounding areas.
As one of Kansas's leading emergency plumbing companies, we understand what you may be experiencing. Dealing with any plumbing problem can not only be a nuisance, but it could be a nightmare if not resolved immediately. That is why we offer round-the-clock service to provide immediate solutions for clients (both commercial and residential).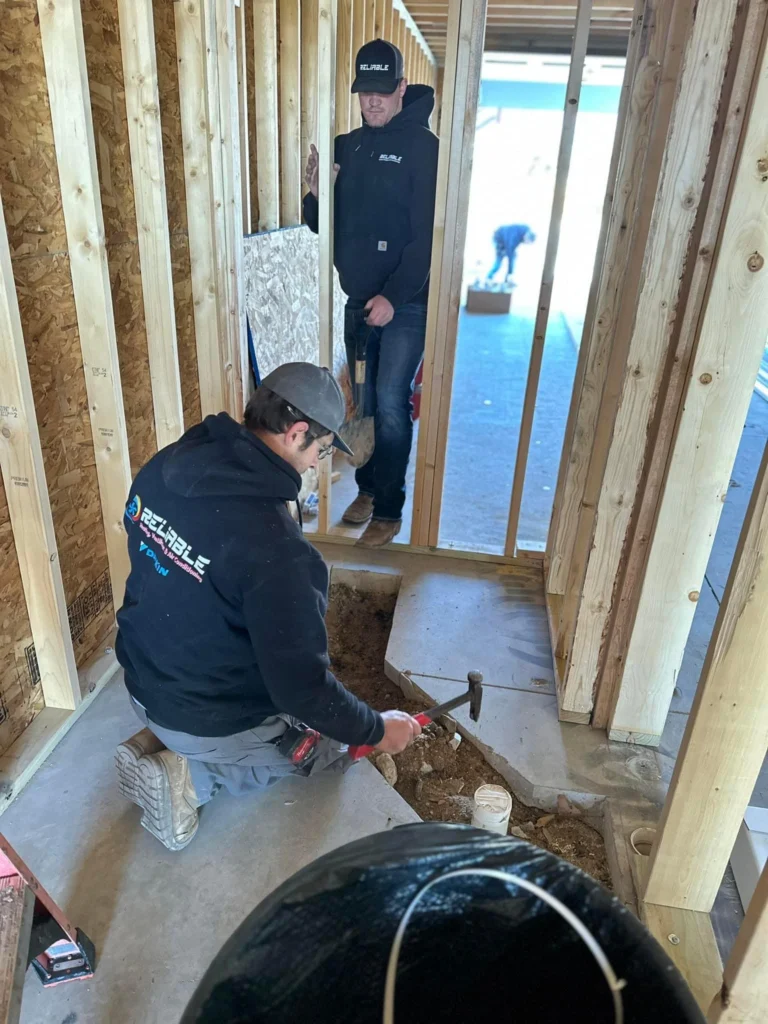 Our licensed and insured plumbers promptly tackle broken pipes, faulty water heaters, clogged toilets, and all other issues you have with your water lines. But we also handle the inspection, installation, consultation, and regular maintenance for all your plumbing, so you will less likely to find yourself in an emergency.
What is considered a true plumbing emergency?
While a dripping faucet or slow drain may feel like an emergency, these problems can be fixed during regular business hours— schedule a routine appointment. Reliable will be glad to accommodate with a time work best for you.
But if you're faced with any of the following scenarios, it's best to call us:
Broken Supply Pipes: Water supply lines deliver hot and cold water to your plumbing fixtures. Because they're under pressure, a broken line can pump up to four hundred gallons of water into your home every hour. A lot of damage can occur in a home during a flood, with water ruining floors, walls, ceilings, and furniture and destroying sentimental objects. If you suspect a leak from a water supply line, call us. We've got you covered!
Overflowing Toilets: An overflowing toilet not only creates an awful mess but can also make your family sick by allowing raw sewage into the home. Plus, the damage from gray water can easily ruin your bathroom flooring.
Water Heater Issues: A water heater that leaks, especially if installed in the attic, can quickly cause extensive damage. With a tank that can hold up to seventy gallons of water, even a small leak could become a disaster.
Gas Leaks: Never try to repair a gas leak in your home. The best thing to do is evacuate your home immediately and call your gas company from a safe distance.
Call us for all your emergency plumbing repairs!
If you don't take care of plumbing emergencies immediately, it will only worsen and do more damage. A simple problem can cause severe collateral damage if not handled promptly.
Choose A Reliable Licensed Plumbing Contractor
A build-up of dirt and grime in your drain, a faucet that won't stop dripping, or a water heater on the blink may not seem like much at first. If left unattended, it can cause extensive water damage down the line. You may have an excellent handyman that you use for other home repairs. But why not work with one of our licensed plumbers to ensure your plumbing emergency will be repaired the first time correctly? Don't skimp on emergency plumbing repairs in your home. Your house is one of the most significant investments you own.
Reliable is licensed and insured and offers same-day service 7 days a week. We help residents and businesses with emergency plumbing repairs throughout Hays, Ellis, Plainville, Kansas, and surrounding areas. We are just a call or text away!
Contact Us Today For
Emergency Plumbing Repairs In Hays,

Ellis, Plainville, KS, And Surrounding Areas