Heat Pump Maintenance In Hays,

Ellis, Plainville, KS, And

Surrounding Areas
Why should you maintain your heat pump?
A heat pump is a long-term investment that can last up to 15 years with proper care and maintenance. By maintaining your heat pump, you can keep it running smoothly and efficiently for its entire lifespan.
Being proactive with quarterly maintenance is smarter than waiting to call a contractor when a problem arises. Your heat pump works tirelessly to keep your home comfortable all year round. Scheduling quarterly routine maintenance on your entire HVAC system can help save you money in the long run, as well as help lengthen the life of your unit. Contact us today for heat pump maintenance in Hays, Ellis, Plainville, KS, and surrounding areas.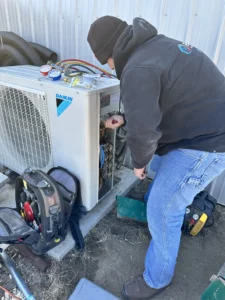 The weather around Hays, Ellis, and Plainville, Kansas, is often severe, so it's essential to maintain your heat pump regularly to prevent it from breaking down during the super-summer hot or cold winter months.
Call the Reliable professionals! Our technicians will conduct regular maintenance check-ups to inspect your heat pump system for any worn-out parts that might need to be replaced.
To learn more about maintaining your indoor comfort system in Hays, Ellis, Plainville, KS, and the surrounding areas. We would be happy to help you keep your heat pump running smoothly.
Here is What You Can Expect During Your Maintenance Visits
Our trained technicians will examine your entire system, including:
Checking the air filters and replacing them if necessary.
Inspect the ducts, filters, blower, and indoor coil for dirt, obstructions, or damage.
Examining the heat pump to remove any obstacles or debris. Cleaning the housing if needed.
Measuring the refrigerant levels and adding more if necessary.
Looking at the electrical components and wiring and making sure all are functioning properly.
Inspecting your ceiling for leaks or other clues that there may be problems.
Clean the indoor coil and drain pan.
Flush and clean the drain line.
Diagnose and seal any leaks in the ducts.
Check line and system discharge pressure.
Measure and verify the refrigerant charge.
Check for and repair any refrigerant leaks.
Initiate a defrost cycle and check for the proper sequence.
Benefits of Routine Heat Pump Maintenance
Maintaining your heat pump is NOT a DIY project. Yes, it would be best if you regularly changed out your air filters, but the more technical tasks should be left up to licensed contractors.
The experts at Reliable in Hays, Ellis, Plainville, KS, and the surrounding areas prove regular heat pump maintenance will be a smart decision. Quarterly tune-ups:
Will keep your system operating with improved efficiency, help lower your energy bills and keep your home comfortable throughout the year.
Increase the lifespan of your indoor comfort system: Routine maintenance will help extend your unit's life, helping to avoid premature replacement costs.
Will help avoid expensive repairs: By keeping your heat pump well-maintained, you are less likely to spend money on unplanned costly repairs.
Ask the experts at Reliable in Hays, Ellis, Plainville, Kansas, and the surrounding areas about heat pump maintenance. We would love to talk with you, answer any questions, and guide you on anything you can do yourself in between professional appointments. Call Reliable today.
Contact Us Today For
Heat Pump Maintenance In Hays,

Ellis, Plainville, KS, And Surrounding Areas