Heat Pump Replacement In Hays,

Ellis, Plainville, KS, And

Surrounding Areas
No system is designed or warranted to last forever. So, when your heat pump is no longer working as efficiently as it once did, it might be time to start thinking about replacement.
Count on the certified team at Reliable. Indoor comfort is our specialty. Contact us today for heat pump replacement in Hays, Ellis, Plainville, KS, and surrounding areas.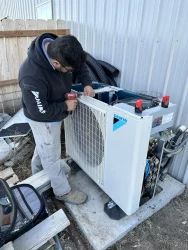 Think of your heat pump replacement as an improvement for your home. If your system is more than a few years old, chances are your heat pump isn't as energy efficient as it could be. Technology has come a long way in recent years, and newer heat pump models can save you a significant amount of money on your monthly heating and cooling bills.
In fact, heat pumps have become a widespread cooling and heating choice for homeowners needing to replace their entire HVAC system. Heat pump systems are designed to efficiently heat and cool your home. Many new heat pumps include an intelligent communicating control to help regulate the temperature so that you use less energy overall. Bottom line – it is an excellent option for year-round indoor comfort.
Call on the experts at Reliable for heat pump replacement. We've installed new heat pumps in Hays, Ellis, Plainville, Kansas, and the surrounding areas for over 20 years. Being in the business this long means we know a lot about the installation, maintenance, and servicing central HVAC systems.
Heating & Cooling Dependable Service
Choose Reliable in Hays, Ellis, Plainville, Kansas, and other surrounding areas to service your heat pump. You'll be working with a team of licensed technicians from a reputable HVAC company.
Reliable guarantees excellent heat pump installation and customer experience. Our technicians pride themselves on good work ethics and skills. A certified technician can make an enormous difference in a sound installation and make you confident in your investment.
Signs You Need Heat Pump Replacement
Your heat pump is not heating and cooling as well as it once did: Have you noticed the air does not quite cool or heat like it once did? Does the system take longer to reach the desired temperature?
Your heat pump is getting inefficient: Have your energy bills increased without anything else changing in your usage? HVAC costs are one of the highest parts of your utility bill. Make sure your heat pump isn't the culprit.
Your system needs constant repair: Has your repairman moved to your favorites in your contact list?
If you frequently call for repairs, replacing your heat pump with a new one will help prevent needless stress and save you loads of money.
Your heat pump has aged…not so gracefully: At ten years old most heat pumps start showing their age. Although routine heat pump maintenance helps keep it healthy, wear and tear will begin to set in at some point. And it no longer is wise to continue keeping it alive.
Reliable Offers Outstanding Replacement Options
We offer an excellent selection of energy-efficient heat pump models. In most situations, we have these in stock at our warehouse and ready to install. We work with top HVAC manufacturers to ensure you get the most reliable and durable heat pumps available today. Our manufacturers stand behind their products with fantastic warranty coverage.
No matter what kind of heat pump you need, Reliable in Hays, Ellis, Plainville, Kansas and other surrounding areas will ensure you get the best unit. We will properly size and match it to your existing air handler with all the comfort features you want. Most importantly, we'll install it properly to function worry-free for years to come.
Contact Us Today For
Heat Pump Replacement In Hays,

Ellis, Plainville, KS, And Surrounding Areas