Heating Repair In Hays,

Ellis, Plainville, KS, And

Surrounding Areas
It can be frustrating when your heater breaks down, especially in cold Kansas winters. But don't worry, a qualified HVAC professional will get you back to warmth in no time.
Choose Reliable in Hays, Ellis, Plainville, Kansas, and other surrounding areas to help you when your heating system breaks. Make sure you choose a licensed HVAC company, like ours, to avoid potential problems. Contact us today!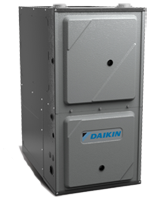 Technical training and experience is vital when trying to repair furnaces. At Reliable, we have years of experience in the business, so you can rest assured that we know what we're doing.
If you require a new unit, a certified technician can make a huge difference in a sound installation. Many times, it is not the equipment that has failed, but the quality of the installation. Know who to trust if you need HVAC heating repair or replacement.
Gas furnaces are the most common indoor units as part of the central residential heating system. When installed and functioning correctly, they can keep the indoors warm when outdoor temperatures begin to fall.
A gas furnace will generate heat by burning natural gas or oil before blowing it into your home. High-efficient 90% AFUE gas furnace models have a rating up to 98 percent, which means only 2 percent of the forced air escapes. This means energy savings for you and your utility bill.
If you have a furnace that won't turn on, the most common reason is that the furnace igniter has failed. The furnace igniter is responsible for lighting the gas that powers the furnace. If it fails, then the furnace will not turn on. Having a licensed repairman to determine the cause of the malfunction is critical.
When dealing with furnaces, it is always a better idea to call in a professional. Gas furnaces can be hazardous if not properly maintained. This is a job for an experienced person and not a do-it-yourself project. Reliable are experts in all HVAC repairs. Lean on them for your indoor comfort and peace of mind.
Common causes and problems with furnaces include:
Dirty ductwork and filters
Faulty igniter
Worn blower components
Malfunctioning heat exchanger
Thermostat not communicating properly
Frequent cycling (turning on and off repeatedly)
The furnace doesn't heat enough or not at all
Reliable in Hays, Ellis, Plainville, Kansas, and other surrounding areas can diagnose and repair your furnace quickly. Please give us a call at (785) 621-4925. We will be happy to help you.
Contact Us Today For
Heating Repair In Hays,

Ellis, Plainville, KS, And Surrounding Areas