Indoor Air Quality In Hays,

Ellis, Plainville, KS, And

Surrounding Areas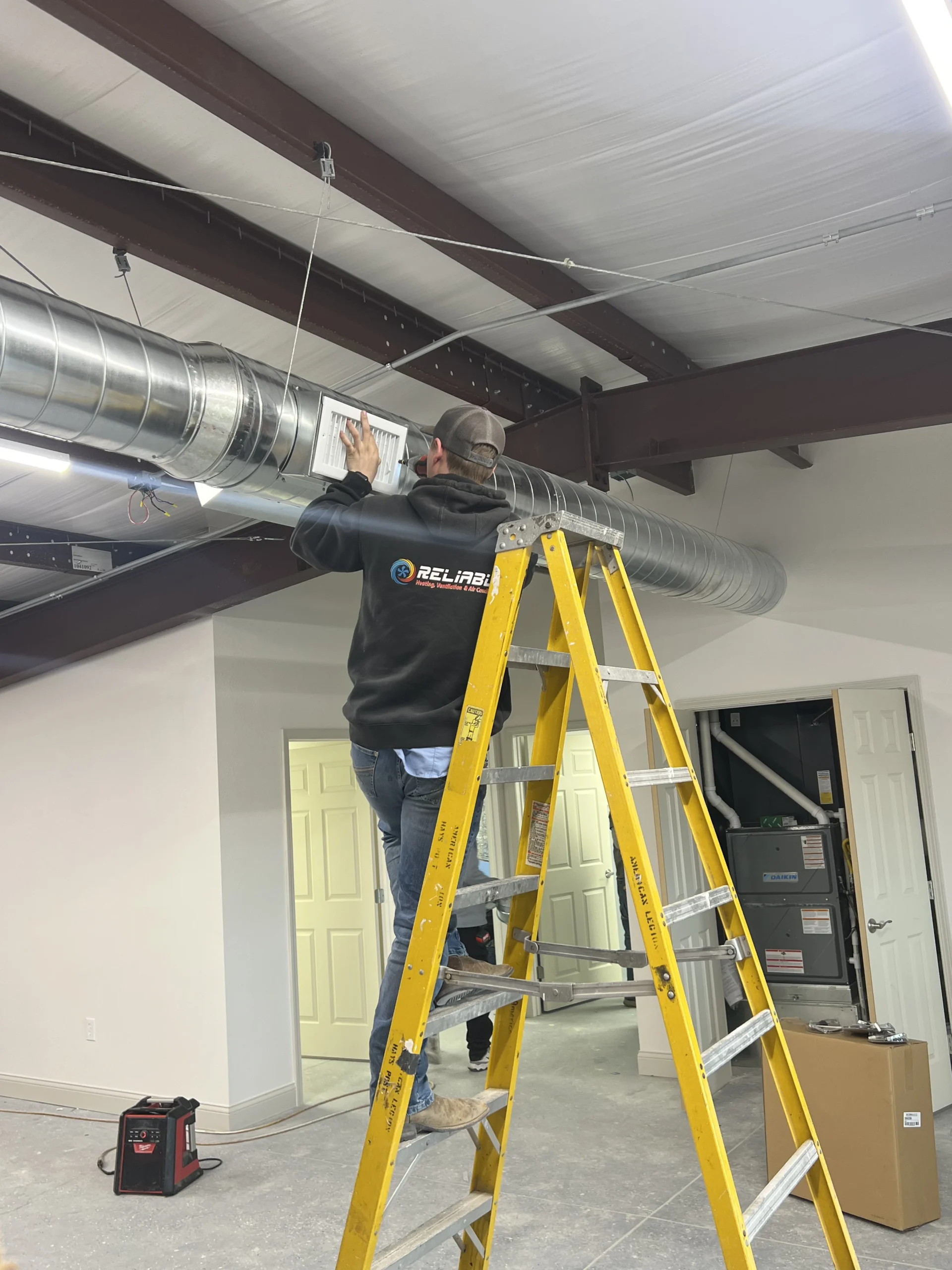 Indoor air quality is vital for you and your family's health and well-being. Poor indoor air quality can cause various health issues, including respiratory infections, migraine, and fatigue. As part of your routine maintenance on your HVAC system, the team at Reliable in Hays, Ellis, Plainville, Kansas and other surrounding areas will inspect your home to ensure that any indoor pollution will be controlled or eliminated. Often there is an indoor air quality monitoring solution for your particular needs. Call us today!
What factors affect indoor air quality?
Several factors can affect indoor air quality, including dust, pollen, mold, and pet dander. If you have allergies or asthma, keeping your home free of these triggers is essential.
High Humidity Levels: Another factor that can affect indoor air quality is humidity. High humidity levels can create an ideal environment for mold and mildew to grow. Unacceptable levels can cause a musty smell in your home and lead to respiratory problems.
Bacteria or Formaldehyde: Bacteria can also be a problem in indoor air quality. Poor ventilation can cause a buildup of carbon dioxide, which may lead to headaches, respiratory issues, or fatigue.
Have you installed new carpet or flooring lately? Formaldehyde is a common indoor air pollutant that can be released from new carpeting, particle boards (furniture), and certain types of flooring. It can off-gas into your indoor air.
There are several things you can do to improve your indoor air quality:
Adequate ventilation is key: Proper ventilation is one of the most important things you can do. Homes today are built tight with a lot of insulation. Suppose there is not adequate ventilation bringing fresh air in. In this case, your family could suffer from the harmful effects of poor indoor air quality.
Opening windows occasionally to let fresh air in is an easy fix. Yet, that may not be enough. Ask Reliable professionals if they should install a new ventilation system or provide you with a product to help improve your ventilation.
Purification: Another way to improve indoor air quality is by using an air purifier. Air purifiers work by trapping pollutants in the filter, cleaning the air, and keeping your system functioning optimally.
There are several different air purifiers on the market. Reliable can recommend the right one for your home.
Pets: Pets shed fur and dander. Be sure to vacuum and clean pet hair to minimize the effects on your indoor air quality.
Whether or not you clean your home often, dust particles can accumulate. Dust consists of dead skin cells, pollen, hair, dirt particles, and clothing fibers. Suppose you or your family members suffer from allergies and asthma. If so, you may want to discuss this with the Reliable tech.
Use microfiber cloths to trap the dust. Vacuum carpets, baseboards, rugs, and furniture regularly. Schedule annual duct cleanings to help eliminate airborne particle buildup and check for potential mold. Whatever is lurking in your air ducts can eventually end up in your lungs.
We offer various solutions that will enhance your home's air quality. If you live in Hays, Ellis, Plainville, Kansas, and other surrounding areas, call us to schedule an appointment.
Contact Us Today For
Indoor Air Quality In Hays,

Ellis, Plainville, KS, And Surrounding Areas