Water Heater Service In Hays,

Ellis, Plainville, KS, And

Surrounding Areas
Stop putting up with a broken water heater. Call Reliable today for water heater service in Hays, Ellis, Plainville, Kansas, and surrounding areas. We provide professional water heater services from veteran technicians.
At Reliable, we understand the importance of having access to safe and clean hot water daily. From showering to cooking meals or cleaning up, you rely on your water heater more than you may realize! Our experts can service your existing water heater or help you choose the best replacement. Selecting a new hot water heater can be a challenging task. There are many options now on the market.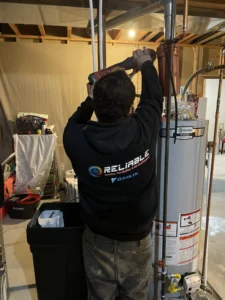 After surveying your home, our experienced technicians will recommend the perfect model for you that meets both your needs and budget. Reliable's licensed plumbers are ready and available to service your water heater and other plumbing needs.
Refrain from putting off service: If dealt with properly, it could save your plumbing and home. Contact us quickly if you notice any of these problems:
Leak: Water leaks can damage your house quickly and begin to develop mold. Potential causes include: a loose or damaged in-line valve, failed pressure relief valve, or cracked water heater tank.
No Hot Water: We know how to fix most makes and models of gas and electric water heaters.
Not Enough Hot Water: A cracked dip tube or sediment buildup in the tank is often the cause if you feel like you're running out of hot water more frequently.
Poor Temperature Control: Adjusting the thermostat should help regulate the water temperature. We may need to replace the whole thermostat if it does not solve the issues.
Low Water Pressure: Water pressure may be down because of narrow pipes or calcium or magnesium buildup in your plumbing.
It's Taking Longer to Get Hot Water: If your water isn't hot, it may be because of the burner orifice or low gas pressure.
Water Looks Dirty: If the water from your faucets looks discolored, your water heater tank will likely have rust and may need to be replaced.
Call the leading water heater service in the Hays, Ellis, Plainville, or the surrounding area. Whatever the diagnosis is on your hot water heater, Reliable can service it. Our licensed plumbers will do a complete inspection to give you the best service.
Call Reliable today when you need water heater service in Hays, Ellis, Plainville, KS, And
Surrounding Areas

.

Give us a call today

to set up your appointment!